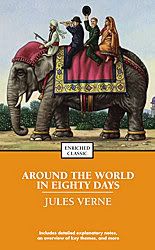 Around the World in Eighty Days
by
Jules Verne
Genre:
Classic Adventure Fiction
Pages:
256
Date Published:
Originally published in 1873 (I read a 2007 reprint edition)
Publisher:
Simon & Schuster
Source:
Purchased new.
Rating:
2.5 of 5 stars
Book description
(
from the publisher
):
After making an audacious wager, the wealthy and eccentric Phileas Fogg attempts a seemingly impossible feat -- to circumnavigate the globe in eighty days.
THIS ENRICHED CLASSIC EDITION INCLUDES:

A concise introduction that gives the reader important background information
A chronology of the author's life and work
A timeline of significant events that provides the book's historical context
An outline of key themes and plot points to guide the reader's own interpretations
Detailed explanatory notes
Critical analysis, including contemporary and modern perspectives on the work
Discussion questions to promote lively classroom and book group interaction
A list of recommended related books and films to broaden the reader's experience
This is the first time I've actually read an unabridged version of
Around the World in Eighty Days
, though I've seen film adaptations before and I am pretty sure I browsed through an abridged version at some point during my childhood (which I remember very little of). Interestingly, although the film versions (and even some of the
cover art for various reprint editions
) often include a hot-air balloon, there is no point in Verne's original story that included a hot-air balloon. I kept waiting to come across it while I was reading, but it just wasn't there! *chuckle*
Phileas Fogg is a serious, precise, and kind-of-boring Englishman who does the same things every day like clockwork, until the day he makes a wager with his whist partners at the Reform Club that he can travel around the world in 80 days. His sidekick is Frenchman Passepartout, his newly-hired servant (in fact, he had been hired that same day, and had been looking forward to the routine and unexciting life that Fogg was accustomed to). During his travels, Fogg is mistaken for a bank robber, which results in his being followed almost the entire way by a detective, though he isn't aware of it. When problems emerge, Fogg uses his wealth to travel around them (good thing he's rich!). Methods of transport include various types of ships, railroad, elephant, and wind-driven sledge, and they meet people of many different ethnicities, cultures, and backgrounds.
The storyline is exciting enough with the race to get around the world in time to win the bet, along with the suspense of his being tailed by a detective who wants to place him under arrest. Unfortunately, the story depends a lot on stereotypes to fill out the character list. Fogg is the logical and cold Englishman and Passepartout is the passionate and curious Frenchman. There is a Eurocentric flavor to the rest of the characterizations. In India, a procession of Brahmans includes a group of "stupid fanatics." While sailing past Papua, it is observed that "Papuans. . . are in the lowest scale of humanity. . ." Then, when they depart from Asia, "now they were beyond the fantastic countries of Japan and China, and were fairly on their way to civilized places again." Finally, Americans are portrayed as somewhat stupid and rash, and a negative characterization of Sioux Indians comes in a scene where they attack the train and kidnap Passepartout. The Sioux are not portrayed as anything but savage, dangerous enemies, attacking with no explanation. On the historical side of things, although there was
fighting
between white settlers (and soldiers) and Sioux Indians in the West in the 1860s-1870s, it seems especially unrealistic for the Sioux to be attacking a moving train--it seems like something from a dime novel rather than from reality.
Beyond the stereotypical characterizations, I also never really came to like Mr. Fogg. He was never interested in seeing the sights and spent most of his time in his room or playing whist. He didn't go out to explore while on the trip at all, unless forced to when transportation problems made them seek unusual means of transport. He was always calm under pressure, but he also never showed any feelings! And even when he did admirable things, like rescuing Aouda in India and rescuing Passepartout from the Sioux, it didn't really make up for the fact that the man had no personality. Passepartout was a lot more lively and interested in the world around him, and I think I liked him more for that. Aouda (a Parsi woman Fogg and company rescued in India) was never really characterized beyond being a quiet and demure lady who was devoted to Fogg. I take that back, there was one moment when she handled a gun like a "true heroine" and defended herself when the Sioux were attacking the train. But for the most part the reader doesn't really get to know her personality.
Although the book was rather exciting in places, it didn't knock my socks off. I think it's problematic to give kids this book without discussing the prejudices and stereotypes portrayed. It's not necessarily racist, but a subtle superiority of Europeans does shine through. Yes, it is indicative of the time period in which it was written, but again I think it is worth mentioning or discussing the attitudes and beliefs of the time rather than just assuming that readers would be aware of it. That's one of the reasons why I like editions like this one--they provide background information, critical analysis, and often a discussion of the time period in which it was written.
In the end, I'm glad I read this book because it has made its way into our popular culture and it is an interesting look at the time period, but my enjoyment was hampered by the novel's one-sided view of the world and the shallow character development. I do hope to give Jules Verne another try at some point in the future, however. I've always wanted to try
From the Earth to the Moon.

**I noticed that this review gets a lot of search engine hits and I can only assume that students are looking for more information on a book they have to read or write about for a class. If this is you, don't copy and paste my information into your paper. It is
plagiarism
and it is super easy to find this review just by plugging a sentence of it into Google, so don't think you won't get caught. Sure, use my review to help you brainstorm things to write about, but if you use my ideas please cite them properly and include this review in your bibliography. And if you think I've said something so absolutely beautifully that you
must
quote me, use quotation marks and give me credit. Thank you!
Related linkage:
Reading Challenges: Awesome Author Challenge, Flashback Reading Challenge.