I've been sick all week, and basically off the computer for most of it, so I haven't made a decision yet on the new home of Book Beginnings. I'm finally starting to feel better so I'm planning to do that ASAP. Sorry for drawing this out for so long. :(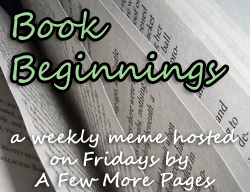 How to participate:
Share the first line (or two) of the book you are currently reading on your blog or in the comments. Include the title and the author so we know what you're reading. Then, if you would like, let us know what your first impressions were based on that first line, and let us know if you liked or did not like the sentence. The link-up will be at
A Few More Pages
every Friday and will be open for the entire week.
Thanks to
Becky at Page Turners
for starting this meme and to
Rose City Reader
for inspiring it!
I'm reading
A Sudden, Fearful Death
by Anne Perry right now. Here are the first lines:
When she first came into the room, Monk thought it would simply be another case of domestic petty theft, or investigating the character and prospects of some suitor. Not that he would have refused such a task; he could not afford to.
I adore Anne Perry's William Monk mysteries, and this one has been quite thought-provoking considering the current political climate! The story so far has involved a rape, a murder, and talk about birth control and abortion. I've been working my way through the series and have yet to be disappointed. This is book #4 in the series.
So how does your current read begin, and what are your thoughts so far? Please leave the link to your specific post, not just to the front page of your blog.
---
---